Instacart Shopper - Delivery Driver (Atlanta)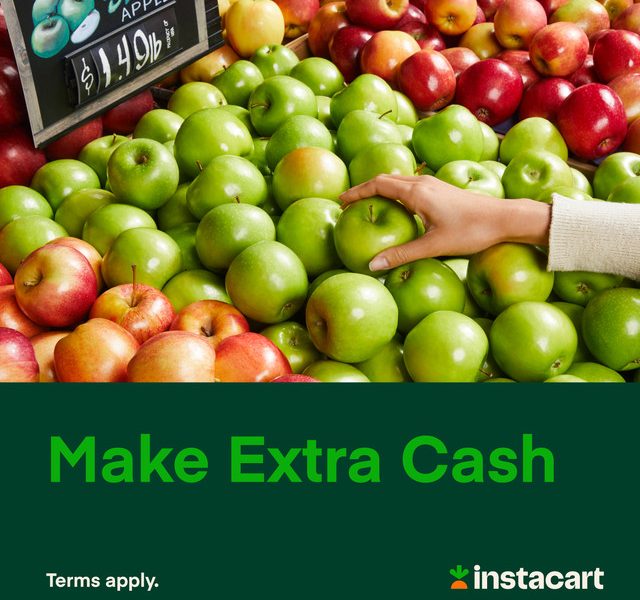 Country: United States of America
WHY SHOP & DELIVER WITH INSTACART?
Instacart is the North American leader in online groceries (and so much more) from a huge number of stores. Our technology aims to make grocery delivery effortless and accessible to everyone. Full-service shoppers select orders through an app on their smartphone, shop the orders in a nearby store, and then deliver them to the customer's door.
Start earning quickly*
Shop on your schedule
Get paid weekly, with the option to cash out instantly
Earn tips for good service
Redeem special earnings promotions, as available
BASIC REQUIREMENTS-
At least 18 years old (21+ to deliver alcohol)
Eligible to work in the USA
Consistent access to a vehicle and a recent smartphone
Ability to lift 50 lbs with or without accommodation
COVID-19 PRECAUTION(S)
Personal protective equipment provided
ADDITIONAL INFORMATION-
Shopping on the Instacart platform is great for anyone looking for flexible, seasonal, entry-level, weekend, weekday, after-school, or temporary opportunities. As an Instacart Full Service Shopper, you can work more flexibly than a part time job.
Anybody is welcome to sign-up, but you'll likely be a great fit if you already provide services as a personal shopper or are involved in the grocery or transportation industries — jobs like couriers, drivers, truck drivers, professional drivers, taxi drivers, and food delivery drivers will all have readily cross-applicable skills.
Instacart is committed to diversity and providing equal opportunities for independent contractors. Instacart considers qualified individuals without regard to gender, sexual orientation, race, veteran, disability status, or other categories protected by applicable law.
Instacart also values providing prospective contractors with a fair chance to pursue opportunities. Instacart evaluates criminal histories in accordance with this value and applicable local, provincial, and federal laws, and tailors any consideration of criminal histories to the requirements of the contract engagement sought.