Maximize Your Rental Income with CityFHEPS: A Win-Win for Landlords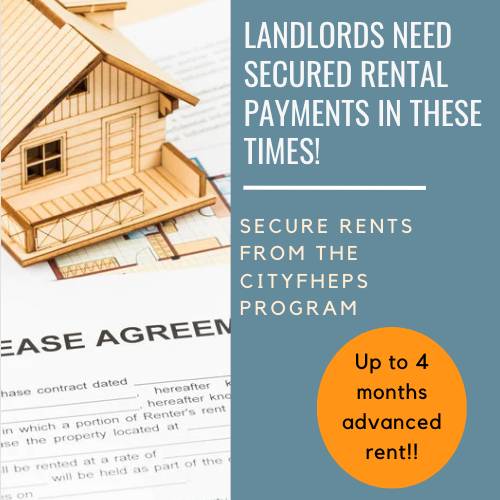 Country: United States of America
Attention all landlords! Are you tired of dealing with the hassle of finding reliable tenants and collecting rent on time? Look no further than CityFHEPS, the rental assistance program that makes renting to low-income New Yorkers a breeze.
With CityFHEPS, you can say goodbye to vacancy worries and hello to guaranteed monthly rent payments. Plus, our program offers incentives for landlords who participate, including signing bonuses and free advertising for your available units.
But thats not all. By partnering with CityFHEPS, youre making a positive impact on your community by providing safe and affordable housing options for those in need.
Join the thousands of landlords who have already seen the benefits of CityFHEPS. Contact us today to learn more about how we can help you fill your vacancies and streamline your rental process.
You stand to gain secured revenue from these apartment placements:
SRO : Up to $1,751
Studio: Up to $2,335
1 bedroom: Up to $2,387
2 bedroom: Up to $2,696
3 bedroom: $3,385
4 bedroom: Up to $3,647
To learn more, see the details of our apartment placement program. When you're ready, simply set an appointment to learn more about Skyton Real Estate Group offerings by TEXT OR CALL (929) 244-9917 TODAY